The Twelfth Sunday after Trinity
Additional Collect
God of constant mercy,
who sent your Son to save us:
remind us of your goodness,
increase your grace within us,
that our thankfulness may grow,
through Jesus Christ our Lord, Amen
Holy Habits: Prayer and Eating Together
As you gather to eat a meal, pause to pray for those who have prepared the food, those who have grown and produced the food and those who have sold and transported the food. Thank God for them and for what God has provided.
Sunday Services
We are delighted to be able to offer public worship in all of our churches.
For regular Sunday services, there will be no need to book in advance, although places are still limited.
As government Covid precautions move from being law to guidance, we encourage everyone to continue to show their care for one another, and especially the most vulnerable, through social distancing and the wearing of face coverings when in close contact with others.
We will continue to provide hand sanitiser and administer communion in one kind only, but we are delighted that we will be able to sing. Please follow all of the safety advice you are given when you attend, and do not come if you are ill. For more information, please see the Coronavirus Update page.
Online worship from March 2020 – June 2021 is available on YouTube, and this website
Upcoming Services
22nd August – Trinity 12
9.30am Morning Worship, St Kew
9.30am Holy Communion, St Peter's
11am Eucharist, St Endellion
11am Morning Worship, St Minver
3pm Holy Communion, St Enodoc
6pm Evensong, St Michael

29th August – Trinity 13
9.30am Holy Communion, St Kew
9.30am Holy Communion, St Peter's
11am Eucharist, St Endellion
11am Holy Communion, St Minver
3pm Evensong, St Enodoc
6pm Evensong, St Michael
Tuesdays 8.30am Holy Communion BCP, St Endellion  
Please pray for
The sick and all affected by the coronavirus.
Pray for the NHS, care workers and all front line workers and volunteers. We pray for race and gender equality and for all victims of race or gender crime and brutality. Pray for everyone on their own or unable to be with their family.
Remember all those who have died recently including Rebecca Daglish and John Coleman. We remember those whose anniversary of death occurs at this time including Ken Buse and Wendy Turner.
Taking it in turns to pray for each other – this week we pray for St Peter's.
Home Groups and Daily Prayer
Our Home Groups are meeting weekly via zoom and we are praying regularly, especially at 9am. If you would like to join a home group or daily prayer, please contact Revd Elizabeth (07758 407661 – elizabeth-wild@live.co.uk)
Reflective Day:
'Exploring Christian faith through Contemporary Fiction' with Rt Revd Graham James
Saturday 4th September 10am – 3pm, at St Endellion Church
Book via www.endelienta.org.uk or contact Judith Pollinger 01208 880181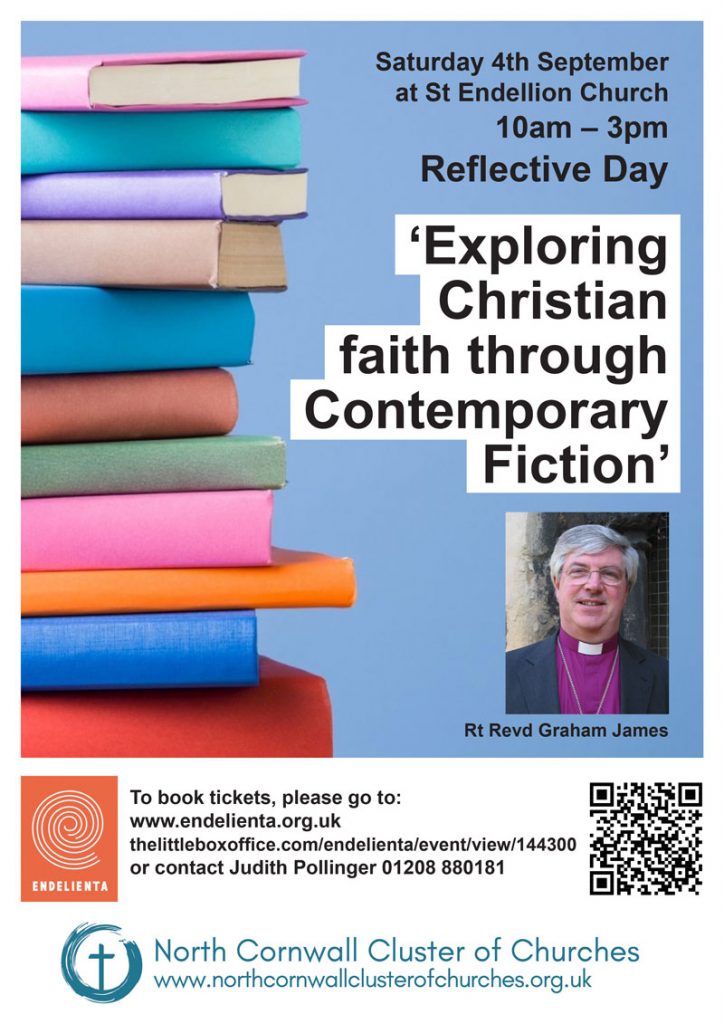 ST ENDELLION & ST PETER'S, PORT ISAAC FETE
We are delighted to report that just under £7000 was raised at the fete last week and would like to thank everyone for their support and help before, during and with the clearing up after. It was wonderful!
Fran, Jean, Pat, Kate, Mary and Jacqueline  – Organisers
Marcus' farewell
Sunday 29th is Marcus' last Sunday and everyone is invited to his leaving gathering which will be held in the vicarage garden at 12 midday on wards and please bring your own picnic. 
Goods for St Petrocs
As it is not possible to have collection boxes in the churches at the moment this is a reminder that St. Minver Post Office is an alternative collecting point.
The best way to help the Bodmin branch of St Petrocs to buy fresh food is electronically.  Details for doing this have changed as Bodmin has a new House Manager, Gary Hales.
Put www.morrisonsgiftcards.com into Google and send your donation to gary.hales@stpetrocs.org.uk
If you want to know more about the latest Church of England Guidance, please see:
https://www.churchofengland.org/more/media-centre/coronavirus-covid-19-guidance-churches
Please find resources, previous services and more at our website:
www.northcornwallclusterofchurches.org.uk
North Cornwall Cluster of Churches
for the parishes of St Kew, St Endellion with St Peter, Port Isaac and
St Minver with St Enodoc (Trebetherick) and St Michael (Porthilly)
Rector: Elizabeth Wild. Tel: 07758 407661
Email: elizabeth-wild@live.co.uk St Minver Vicarage
www.northcornwallclusterofchurches.org.uk
Facebook
YouTube channel