Welcome to St Endellion!
"St. Endellion! St. Endellion! The name is like a ring of bells. I travelled late one summer evening to Cornwall in a motor car. The road was growing familiar, Delabole, with its slate quarry past, then Pendoggett. Gateways in the high fern-stuffed hedges showed sudden glimpses of the sea. Port Isaac Bay with its sweep of shadowy cliffs stretched all along to Tintagel. The wrinkled Atlantic Ocean had the evening light upon it. The stone and granite manor house of Tresungers with its tower and battlements was tucked away out of the wind on the slope of a valley and there, on the top of the hill was the old church of Saint Endellion."
So wrote Sir John Betjeman (see here for the full text of his article). about his approach to this magical church. St Endellion is one of England's holy places, an ancient collegiate church with six prebends, a mile from the sea and surrounded by fields. Betjeman observed that the church goes on praying even when there is no one in it, and it has a sense of spiritual community which affects so many who come here. For many of the members of the two annual St Endellion Music Festivals, who provide music at an international level, St Endellion is their spiritual home.
Today St Endellion and St Minver are home to the two largest congregations among our six churches. In St Endellion the Sung Eucharist on Sundays is in the High Church tradition, with incense. We love to welcome people into this sense of holy community, in a place where heaven and earth seem very close.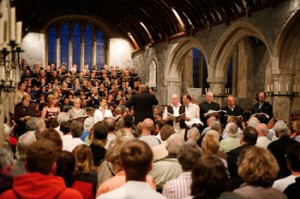 A very exciting project has begun at St Endellion, to create a centre for the Arts & Spirituality with residential capability. A tripartite agreement has been forged between our church, the Diocese and the Music Festivals which has led to the formation of a new Company, called `Endelienta', which has its own website: www.endelienta.org.uk. Endelienta has a mission to explore life and creativity through the Arts and Spirituality.
The Stone Barn and the Glebe Farm between them can accommodate 25 people and are available for rent from the Festivals Trust. Please bring a group!
History
St Endellion is an ecclesiastical parish within the diocese of Truro. It lies in north Cornwall, England, in the United Kingdom. It takes its name from Saint Endelienta, one of the 24 children of Brychan who is said to have evangelized the district in the fifth century. Two wells near the church are associated with her.
The parish church of St Endelienta is close to the B3314 from Delabole to Wadebridge and is a large building of the 15th century in Perpendicular style. It contains some fine examples of carving in stone and wood from various periods.
St Endellion is a collegiate church with six prebends, one of which is held by the rector of the parish and the others are held as honorary positions by senior clergy and laity of the diocese. Despite formal abolition in 1548 the prebends were restored and continue to the present day. A new ecclesiastical parish at Port Isaac was created out of the parish in 1913. Both are within the civil parish of St Endellion.
Support
St Endellion depends upon many people who give of their time and expertise to help these places continue to be vibrant, beautiful and sacred places. From our churchwardens, organists, bellringers and sacristans to our Church council members, flower arrangers, and many more we are dependent upon their dedicated, voluntary work. We are grateful for all the support we receive from our Friends and from the Festival trust.
Others, who are unable to give of their time or skills, help support us by praying and worshipping with us, by attending and supporting our many events and concerts or through financial contributions to our appeals, collections and supporting organisations.
We always welcome suggestions and are always looking for people to help us grow our communities. Please contact any of the clergy, churchwardens or readers if you are able to offer even a small amount of time or expertise.
Bellringers
We are always happy to welcome newcomers who wish to join our team of bellringers and learn more about the art of ringing.
Please contact: Tom Warne 01208 880488
The Friends of St Endellion Church
Welcomes all who wish to support the ministry, spirituality and building of the ancient Collegiate church of St Endellion. Registered charity. Click here for more information.
St Endellion Festivals Trust
The St Endellion Festivals Trust is a registered charity, with the aim of bringing top quality classical music to a corner of the country where there is relatively little professional music-making and of giving young musicians the chance to learn and perform alongside household names.
Subscription and contact details: http://www.endellionfestivals.org.uk
Endelienta Appeal
To realise the vision of making the St Endellion campus a community hub for the arts and spirituality, the three Endelienta partners, St Endellion PCC, the St Endellion Music Festivals Trust, and the Diocese of Truro are raising capital development funds.
Further Details: http://www.endelienta.org.uk
Arts and Spirituality at St Endellion needs you!
We are always looking for more volunteers who are willing to help us publicise and steward the Endelienta concerts, exhibitions, the North Cornwall Book Festival and other events which take place at St Endellion in addition to the Summer and Easter Music Festivals.
As we continue to expand the number and range of events that take place at St Endellion, we need to ensure adequate stewarding and welcome for those attending. To this end we are looking to establish a group of reliable volunteers willing to give of their time to support these events.
For stewards, no experience is needed and guidance will be given and duties tailored to individual abilities and skills. In many cases stewards will be able to attend the concerts and events at which they assist.
Alternatively if you are able to help distribute flyers, posters or any other publicity activity we would love to hear from you.
We are very happy to accept volunteers who are not regular church-goers but who would like to help us realise our aim of fostering wider engagement and participation in the arts across our communities.
For contacts, see Who's Who page
Facilities at St Endellion
| | |
| --- | --- |
| | Open Daily from 8.30am to 7pm or dusk. |
| | Disabled access |
| | Church car park with additional parking available during concerts/festival times. |
| | PA & Loop system |
| | Wifi |
| | Toilets in Church Hall. |
| | Hot drink facilities in Church Hall. |
| | Heating During winter services. |
Seating Capacity: 200 (this can be increased with extra seating, please ask for details)
Please note: To book St Endellion Church Hall, Glebe Farm or the Stone Barn, please go to endelienta.org.uk/venue-hire/
Contact: Jill O'Grady 01208 880312