Welcome to St Kew!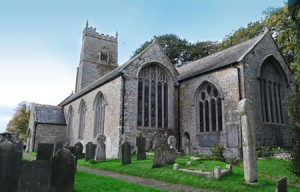 One would expect that a church dedicated to not just one but two saints will have a very special feeling, and the church of St James the Great at St Kew does not disappoint. There is a prayerful sense of tranquility that embraces the building. A sense of calm presses gently upon you the moment you arrive at St Kew, inviting deeper reflection about what is truly important. It's a wonderful place where the vows of marriage and baptism seem to possess added weight and meaning.
Within this medieval church are found many architectural gems, including a recently restored stained glass window that dates back to the 15th century, while the lovely churchyard invites the visitor to linger always a little longer
It would be a mistake however to think of the church as but a memorial to the past. This wonderful building continues to bear witness to the faith throughout the year in worship, prayer and song. Its wonderful acoustic has lent itself as a recording studio for, among others, the Fishermen's Friends of Port Isaac who recently recorded their new album at the church.
Sunday communion is at 9.30am on the first and third Sunday of each month with a relaxed informal morning worship at the same time on the second and fourth Sunday. Our small but friendly congregations will always try to make you welcome. Or come to our evening Harvest, Carol or Parish Supper celebrations and perhaps afterwards join us next door at the St Kew Inn for an evening drink!
A History of St James the Great Church, St Kew
The present church was built in the 15th century, but is believed to be the site of the former Chapel and cemetery of one of the earliest Celtic monasteries in Cornwall, reputedly founded by St Docco. The ancient chapel had been dedicated to St.Kew, a legendary saint who was reputedly the sister of St Docco. and to Docco himself, although his name was dropped after the tenth century. There remains few indications of the monastery although A small stone at the back of the church, inscribed "Justi" in both Latin and Ogam characters, was probably a memorial to a monk of the fifth century.
During the medieval period, the parish contained two additional chapels, one dedicated to Wenna, one of daughters of Brychan at Pengenna, and another to the Anglo-Saxon saint Aldhelm at Chapel Amble.
Although there is no evidence of the church being rededicated to St James the Great, he has been regarded as the patron saint since the late 15th century. The present church building, also dedicated to St Kew, was financed by tithes and taxes of local landowners. Built after the Black Death it acted as a house of prayer to ease the path of the souls of the dead.
Inside the church the high nave has a wagon roof, with original beams and carved angels at the foot of each. There is a Jacobean pulpit, a Victorian rood screen and pews, some of which possess the original medieval carved ends.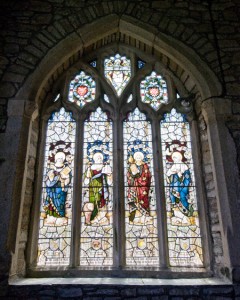 An outstanding feature of the church is that of the stained glass windows, the most notable being a recently restored medieval window depicting the story of Christ's Passion. The window in the south chapel contains fragments of even more ancient glass depicting the genealogy of Christ. This is one of only two churches in Cornwall to possess so much medieval stained glass.
Support us
St James the Great depends upon many people who give of their time and skills to help the church remain a vibrant, beautiful and holy place. From our churchwardens, sacristan, organist, bellringers and our church council members, flower arrangers, and many more we are dependent upon their dedicated and voluntary work.
Others, who are unable to give of their time or skills, help support us by praying and worshipping with us, by attending and supporting our many events and concerts or through financial contributions to our appeals, collections and Friends organisations.
We always welcome suggestions and are always looking for people to help us grow our communities. Please contact any of the clergy, churchwardens or readers if you are able to offer even a small amount of time or expertise.
Bellringers
We are always happy to welcome newcomers who wish to join our team of bellringers and learn more about the art of ringing.
Please contact the tower captain Ken Godden (07968 481 520)
The St James Trust & Friends of St James
Founded and registered as a charity in 1995 to raise funds for the church and its work at St Kew. The trust launched the Friends of St Kew to raise funds for maintaining the building of St Kew church.
Contact: Barbara Gabriel, tel. 01208 880479
For contacts, see Who's Who page
Facilities at St James
| | |
| --- | --- |
| | Daily from approx 9.00am to 6pm or dusk. |
| | Disabled access is via the Parish Hall. |
| | Church and Parish Hall car parks. |
| | PA & Loop system |
| | Toilets in Parish Hall adjacent to church. |
| | Kitchen facilities in Parish Hall |
| | During winter services but wrap up warm… |
Seating Capacity: 250
Church or Parish Hall meeting facilities & bookings
St Kew Parish Hall with kitchen facilities and toilets. Contact: Kim Appleby, 01208 880583.
St Kew Highway Community Hall, Contact: Shirley Rowe on 01208 841257