Sunday 25th September
Fifteenth Sunday after Trinity & Harvest
Additional Collect
Lord God,
defend your Church from all false teaching
and give to your people knowledge of your truth,
that we may enjoy eternal life
in Jesus Christ our Lord, Amen.
Online worship: Watch the weekly online service from the Church of England here.
Upcoming Services and Events
Sunday 25th September (Trinity 15 / Harvest)
9.30am Harvest Festival, St Kew
9.30am Holy Communion, St Peter's
11am Sung Eucharist, St Endellion
11am Harvest Festival, St Minver
3pm Holy Communion, St Enodoc
6pm Evensong, St Michael

Tuesday 27th September
8.30am – Holy Communion BCP, St Endellion
2:30pm – Memorial service and interment for Yvonne Harper, St Minver

Thursday 29th September
11am – Funeral of June Bryant, St Peter's
9:30am – St Michael and All Angels Eucharist, St Endellion

Sunday 2nd October (Trinity 16 / Harvest)
9.30am Holy Communion, St Kew
11am Harvest Festival, St Endellion
11am Holy Communion, St Minver
3pm Evensong, St Enodoc
4pm Harvest Festival Café Church, St Peter's
6pm Holy Communion, St Michael
Morning Prayer at St Endellion on Wednesdays, Thursdays and Fridays at 9am.

Please bring donations of tinned food to the harvest festivals for Wadebridge foodbank
Please pray for
The sick and all affected by the coronavirus. All affected by the war in Ukraine.
Pray for the NHS, care workers and all front line workers and volunteers. We pray for race and gender equality and for all victims of race or gender crime and brutality. Pray for everyone on their own or unable to be with their family.
Remember all those who have died recently and those who are bereaved, particularly the families and friends of Beryl Sedgwick, June Bryant and Ian Boyd. We remember those whose anniversary of death occurs at this time including Teddy Rogers, Norma Kearton, Joan Rowell, Doreen Howarth.
Pray for those getting married in our cluster including Katie and Charlie, Diana and Andrew, Sophie and Hector and those getting Baptised.
Taking it in turns to pray for each other – this week we pray for St Peter's.
Home Groups and Daily Prayer
Our Home Groups are meeting weekly via zoom and we are praying regularly, especially at 9am. If you would like to join a home group or daily prayer, please contact Revd Geraldine Ashton. Tel: 07957609085 gezzalou@aol.com
Julian Meeting
7pm, Thursday 29th September, St Endellion Church and in own homes.
Readings:
The hymn : Angel voices ever singing .'
Matthew 18. 10 -14 and  from Mother Julian: 'Just as the body wears clothes and the flesh skin, and the bones flesh , and the heart the chest,so we, soul and body are clothed and enfolded in the goodness of God. Yes, and this is more comforting because all these other things will wear out, but Gods goodness is always whole, and incomparably closer to us.'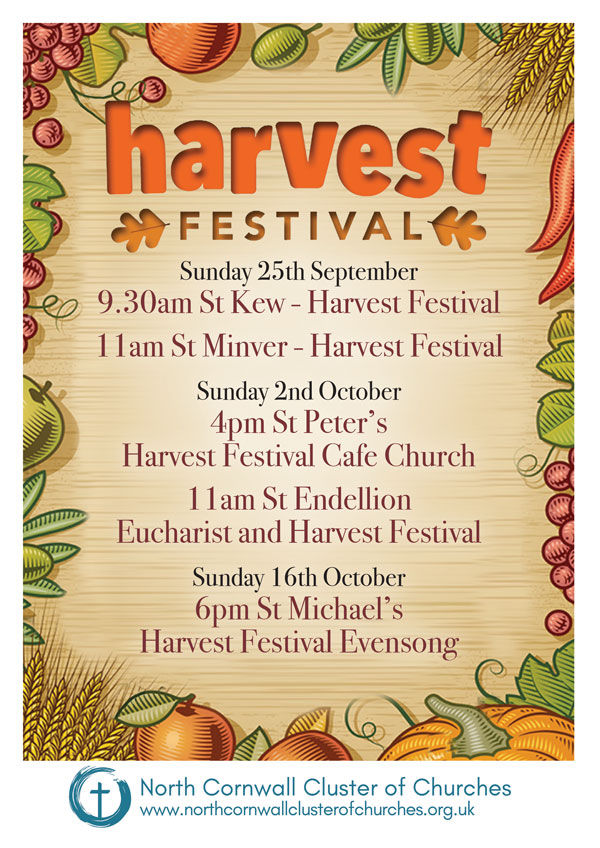 Goods for St Petrocs
Donations of dry goods can now again be left in the back of our churches. St Minver Post Office is still an alternative collecting point.
You can also help the Bodmin branch of St Petrocs to buy fresh food electronically.  Put www.morrisonsgiftcards.com into Google and send your donation to mike.radford@stpetrocs.org.uk
If you want to know more about the latest Church of England Guidance, please see:
https://www.churchofengland.org/more/media-centre/coronavirus-covid-19-guidance-churches
Please find resources, previous services and more at our website:
www.northcornwallclusterofchurches.org.uk
North Cornwall Cluster of Churches
for the parishes of St Kew, St Endellion with St Peter, Port Isaac and
St Minver with St Enodoc (Trebetherick) and St Michael (Porthilly)
www.northcornwallclusterofchurches.org.uk
Facebook