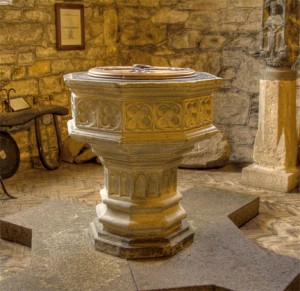 The Christian sacrament of baptism provides a visible sign of the beginning of our journey of faith; a journey which continues until the end of our lives. In this sacrament God calls us by name and we become members of the family of Christ.
Our tradition is to baptise young children and babies to welcome them by name and invite their parents, Godparents and the whole Church to support and bear witness to God's presence in their lives. Those who are baptised as children are invited by the Church to confirm their own faith at a later stage when they can be confirmed by the bishop.
Further information about the sacrament of Baptism and the questions that are posed to parents and Godparents may be found on the Church of England website
We welcome all those who are considering Baptism – sometimes known by its older name of 'Christening'- for themselves or for their child.
Please contact our Priest in Charge, Elizabeth Wild 07758 407 661, who also welcome inquiries from those already baptised who wish to confirm your faith. Click here