"One has to be so terribly religious as an artist. I always feel as if I stand naked for the fire of God to go through me" D.H.Lawrence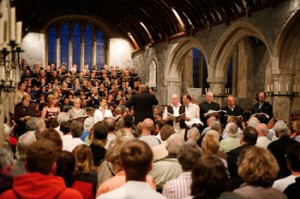 Our parishes are blessed with many artistic gifts, activities and associations, from Port Isaac's thriving artistic community and Sir John Betjeman's burial place at his beloved St Enodoc to St Kew's medieval stained glass window and the renowned St Endellion music festivals.
In collaboration with the Diocese of Truro and the St Endellion Music Festival trusts we have developed an exciting new vision focused upon St Endellion Church and its adjoining buildings. Endelienta is seeking to raise £1.5 million to create a unique centre for artistic and spiritual expression, allowing a year-round programme of events, retreats and courses as well as a well-appointed facility for the whole community.
Elsewhere we have also hosted and arranged many events including two wonderful Arts and Literary festivals, featuring authors and filmmakers such as Marina Lewycka, Jonathan Stedall, Giles Andraea and Justin Cartwright. Across our local communities we continue to foster the arts whether by way of the All Saints Children's Drama group to welcoming local schools and youth organizations on visits and study days to our churches.
We are always looking for new ways to celebrate the spiritual dimension of the arts and our artistic communities here in Cornwall, recognizing that, as the former bishop of Oxford, Lord Harries, observed, "it is the arts that engage the most sensitive, serious and creative side of millions today"