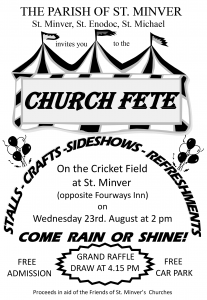 The St Minver Church Fete will be on Wednesday 23rd August commencing at 2pm, whatever the weather! So please come along to the Cricket Field to enjoy all the family fun and games, taste delicious home cooked refreshments and listened to the sounds of the St.Minver Silver Band. Parking and entrance is free. In the main marquee will be stalls of all kinds and our grand raffle. This year we also have a marquee of 'local crafts'.
Our traditional games include 'rats', 'ducks', 'horses' and, of course, 'the orange bomber'. If you don't know what this is, you really have to find out! And why not have your face painted too?!
'Bottle Sunday' will be Sunday 20th August, Please bring bottles of any contents to St Minver as a donation to the bottle stall.