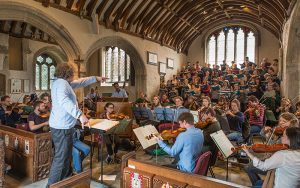 It is excellent news that David Watkin has agreed to be our guest musical director for a 3rd consecutive year. His performances of the St Matthew Passion and Brahms' 1st Symphony were high spots at the 2017 Festival for performers and audience alike; we can have high hopes of his performances of the Messiah and Beethoven's 3rd (Eroica) Symphony at the 2018 Festival.
The final weekend of the Festival will be a commemoration of the last year of the First World War, with two performances of the Messiah sandwiching a concert comprising Butterworth's Banks of the Green Willow; Finzi's Requiem da Camera; both conducted by Eamonn Dougan, and Beethoven's Eroica Symphony. Our opening chamber concert on Easter Day will include Beethoven's Kreutzer Sonata (played by Fran Barritt) and Mendelssohn's C Minor Piano Trio, performed by the Galini Piano Trio (Andrew Watkinson, Shuna Wilson and Caroline Palmer). There will be a second chamber concert on the Tuesday, with Mozart, Chopin, MacMillan and Brahms; two late night concerts on the Tuesday and the Thursday – one of baroque vocal music, the other of jazz, featuring Craig Milverton; and Viv McClean performing a Chopin piano recital for the St Kew Thursday lunchtime prom.   The mid-week choral and orchestral concert, conducted by Eamonn Dougan, Andrew Watkinson, and Adam Hickox, will comprise Finzi's Eclogue for Piano and Strings; Britten's Rejoice in the Lamb; Bach's double concerto for oboe and violin; Holst's This have I done for my own true love, for a cappella choir; and Tchaikovsky's Souvenir de Florence for string orchestra.
In addition, there will be two sung church services; Thoughts for the Day each weekday morning at 9am; and a Come and Sing the Faure' Requiem on Easter Saturday, conducted by Oli Tarney. Our Festival Exhibition, paintings by our 2017 artist in residence Sarah Bryant, will be on dsplay in the Hall throughout teweek.
A distinctive feature of both of the St Endellion music festivals is the mix of professional and amateur musicians coming together for the sheer joy of making music. This year will be no exception.   As someone who was introduced to St Endellion by Richard Hickox in the year before the Easter Festival started, I am particularly excited to be able to welcome his son Adam to the conductor's podium.
We look forward to seeing you at Easter.
Tickets £5 – £25. For booking details visit www.endellionfestivals.org.uk.
Endelienta
Coming in May:
Saturday 5 May, 7.30pm Joyful Company of Singers
The Joyful company of singers make a welcome return to St Endellion to take us on a wonderful musical voyage of discovery exploring choral settings from Britain, Germany and the Baltic region.
Tickets £10. Book tickets online at www.endelienta.org.uk; by e mail tickets@endelienta.org.uk; by phone 07787 944935; or from the Wadebridge Bookshop. Accompanied under 16s are free.