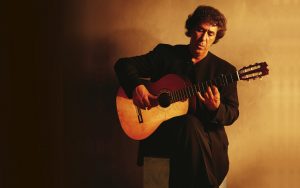 Friday 16 March, 7.30pm, St Endellion Church
The supreme artist of the flamenco guitar, guitarist/composer Juan Martin plays and introduces his compositions within the forms of the great tradition. His exquisite style is enhanced through minimal amplification to capture his very pure flamenco sound: just Juan and his sublime guitar to lift and transport you to another dimension – melodic beauty and rhythmic passion. ¡Viva el arte!
This evening's performance will include works recorded partly in small churches in this country for his latest album, and forms part of a solo acoustic tour to intimate performance spaces.
One of the world's finest flamenco guitarists, Juan Martin recorded with Herbie Hancock and Rory Gallagher, played with Miles Davis and at Picasso's 90th birthday. His alchemy of the traditional and modern, mixed with his seductive, fiery and passionate performances, guarantees an evening of excitement and electricity.
Tickets £15 (nave), £10 (aisle), accompanied under 16s free (aisle only). To book, go to
https://endelienta.org.uk/product/friday-16-march-juan-martin/