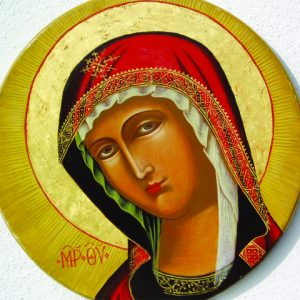 Weekends 10 to 25 March, 11.30am-4.30pm
Dating back to the Byzantine Empire around 200 AD, Iconography (image writing) was said to be the depiction of saints and the holy family as real representations, handed down through the centuries. The Icon was a vehicle for prayer and was usually kept in a cupboard or niche until required. It was also made as a triptych (3 panel) or diptych (2 panel) which folded shut when not in use and could be transported as a travelling altarpiece.
Artist Cheryll Kinsley Potter came to Iconography after visiting the Monasteries of Meteora in Central Greece. Cheryll finds a powerful presence in the icons, a silence, a peace and a fierce beauty which she strives to recreate in all her work. In this exhibition she shows her latest icons, alongside some of her richly coloured landscape paintings.
Preview: Friday 9 March, 6-8pm
For more information on Cheryll's work visit www.iconographystudio.co.uk