Saturday and Sunday 21 and 22 May, St Endellion Hall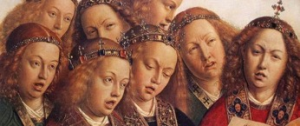 This very popular May madrigals and part-songs weekend, run by singer and musical director Helen Porter (see www.helenportermusic.co.uk) comes to St. Endellion for the first time. During the weekend we will sing a diverse range of madrigals and part songs in harmony ranging from the 1600s to the present day. The weekend attracts singers from all over Cornwall, many of whom belong to other choirs, and the standard is high. Practice recordings and scores are available for those who don't read music and would like to do some preparatory work in advance of the weekend. The workshop will take place at St Endellion and/or Port Isaac (details tbc) and will end with a public performance at St Endellion Church on Sunday afternoon.
Participation will cost £50 per person. To book a place  contact Ian Sandbrook on ian.sandbrook@btinternet.com or by phone 01840 214613
You can book on line and  pay by either card or a PayPal account, click here and scroll down to the event.