Category Archives:
Front page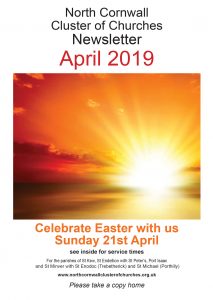 The April newsletter includes news, events and services from around our Cluster including details about Holy Week and Easter services.
This year ShelterBox are running a campaign called 'Give a Tent for Lent'. They are inviting churches to help provide shelter for a family in need by raising the cost of a specially designed ShelterBox tent (£317) during the month of Lent.
Last year 26.5 million people were left without vital shelter, having been forced to flee their homes due to conflict and disaster. The provision of emergency shelter can make a huge difference to families left without anything.
The support that ShelterBox has received from Christian groups for nearly twenty years has meant that they have been able to help over a million people in desperate need, to recover from disaster.
For the people of Sulawesi who are still coming to terms with the effects of the recent earthquake and tsunami, a tent means more than just a place to stay. It is a sanctuary from chaos, a safe comfortable haven to sleep in, a chance for families to regain their privacy, and a space to take stock.
Every penny and pound we raise will help ShelterBox to provide tents and other aid items, such as solar lights, water filtration, blankets, pots and pans.
Please do give generously towards this valuable cause.
You can find more information or donate directly on the website:
www.shelterbox.org/give-tent-for-lent
13 to 21 April 2019
The Easter Festival will start on 13th April with a Come and Sing the Duruflé Requiem. Over the next 9 days we shall again be able to enjoy the rich mix of choral and orchestral and chamber music that characterises these wonderful festivals. Particular features will be the world première of Oliver Tarney's St Mark Passion on Good Friday and inspiring renditions of Mozart's C Minor Mass and Shostakovich's 9th Symphony under the batons of David Watkin and Adam Hickox.
See further details on www.endellionfestivals.org.uk.